As you have likely read by now, I play a lot of golf. I don't play as much as I like, and certainly not as often as some others, but I play at least once every week, sometimes more, and at least once a year take a pretty aggressive golf vacation consisting of 36 holes a day for several days straight. You also might already know that as often as possible, I walk the course. That, along with the fact that I like getting new stuff, has caused me to buy more than my share of golf shoes over the years.
I have worn several models of FootJoy, Etonic, Ecco, Nike, and even those Bite golf sandals for several unfortunate rounds back in the day. No shoe from then until now has ever impressed me more than the FootJoy Contour...so much so that I have recommended them to several others who have tried them and love them as well.
The funny thing is the way I discovered them. One morning, I was running a little late for my tee time at
Bolingbrook Golf Club
(a really nice, but overpriced track in Chicago's SW suburbs - but we'll touch on that in a later post). Well, it wasn't until I parked the car that I realized I had forgotten my golf shoes. I knew I couldn't be the only person to ever do this, but felt pretty dumb nonetheless. Time was not on my side, so I would have to bite the bullet and buy a pair in the clubhouse.
Ack! I was sure that the course markup was going to make this one hurt, and since I was buying shoes anyway, I thought, why not get some good ones, like DryJoys, maybe? I quickly perused the selection in what is a very fine pro shop, I must admit, and grabbed a pair of DryJoys. Double Ack! They did not have my size in the DryJoys, so I grabbed a different pair that looked nice enough. I had never heard of FootJoy Contours (must be new), but they looked good and were significantly less expensive than the DryJoys, bonus!
They had my size, so I paid the $90, plus my ridiculous Greens Fee, and put on my new shoes. Then, and only then, did the dread set in. You know that torturous walk that is the traditional breaking in period for golf shoes. I was sure to be treating some large blisters that evening, I thought. I only hoped that it wouldn't impact my game too much.
Of course, as always, the only thing that impacted my game that day was my inability to hit the ball well. What did not impact my game were my new shoes. Oh my God, these new shoes had to be the most comfortable shoes right out of the box I had ever worn...and I mean compared with ALL shoes, not just golf shoes. I walked the course that day with nary a blister, and an only mildly bruised ego after playing the brutal closing holes at Bolingbrook.
I have since purchased no less than four additional pairs of Contours, and yes, did buy a pair of DryJoys as well since. I can tell you without a doubt...save your money, and buy Contours before you ever buy another shoe. If they aren't the most comfortable golf shoe you have ever worn, be sure to let us know right here on this blog. If you love your Contours, of course, let us know that too! FootJoy makes the Contours for both men and women.
Oh, and by the way, several pairs are on sale now at Golf Galaxy for only $79.99. Just click on the Golf Galaxy link on the right to take advantage of this weekend's sale good through 7/18/09.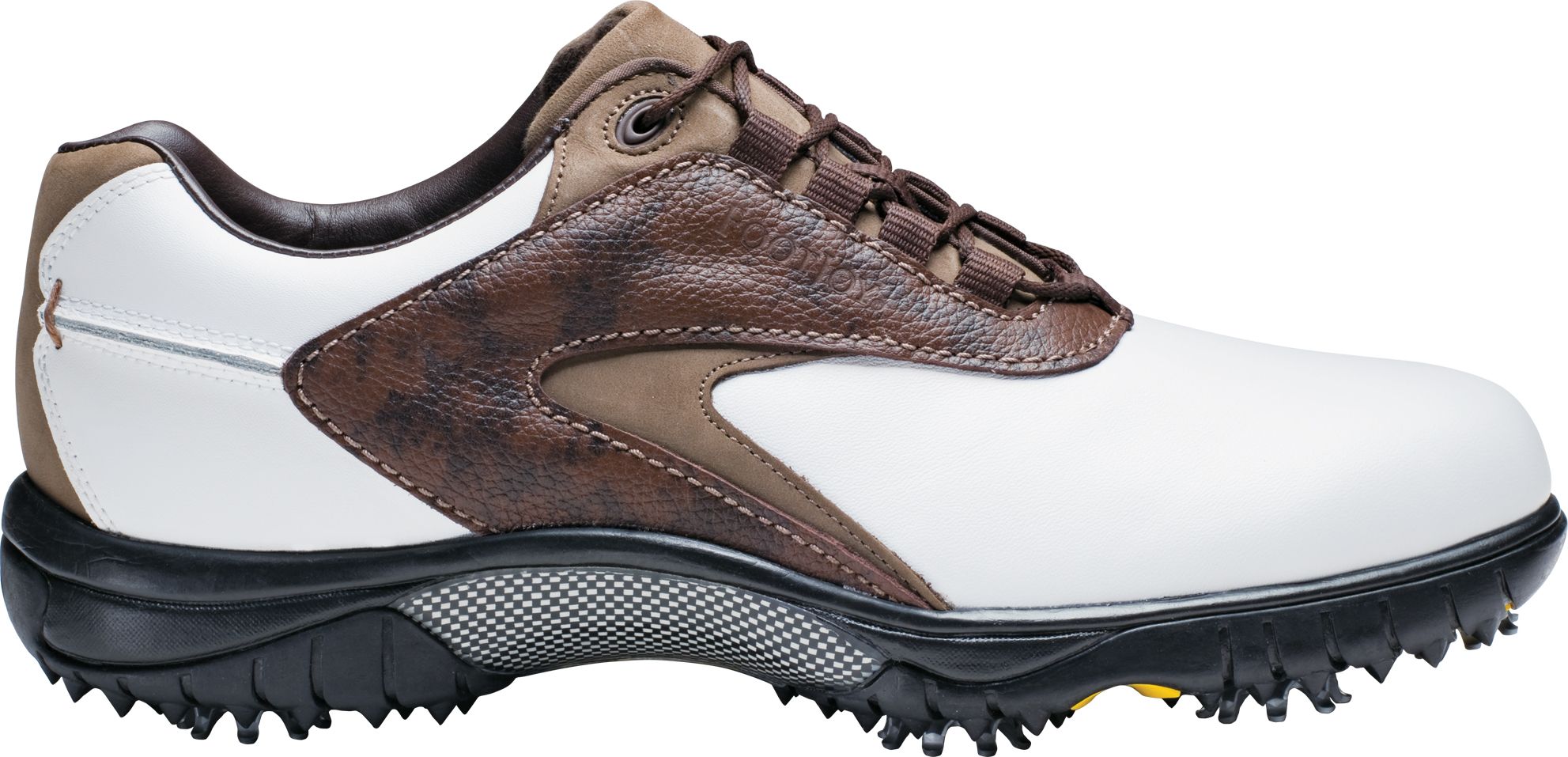 Fairways and Greens!